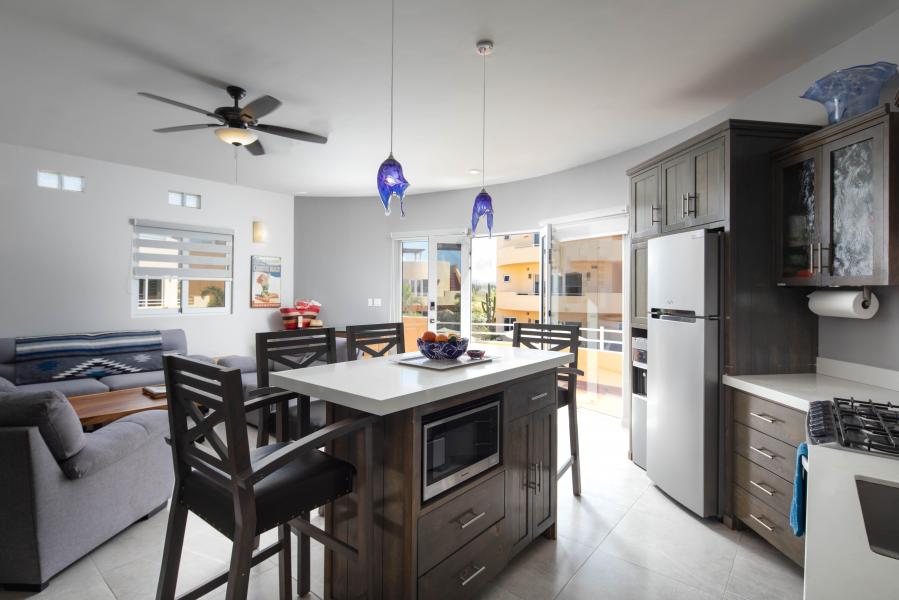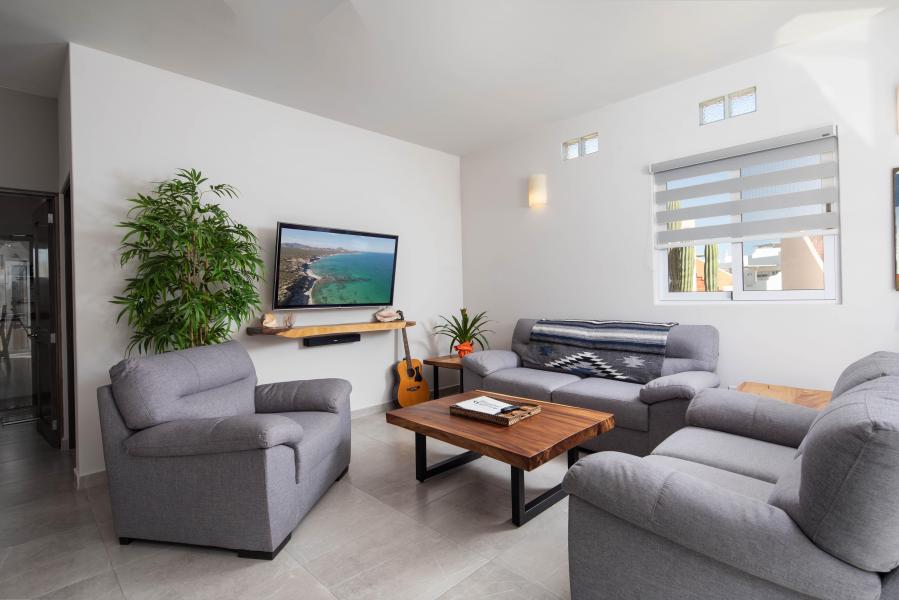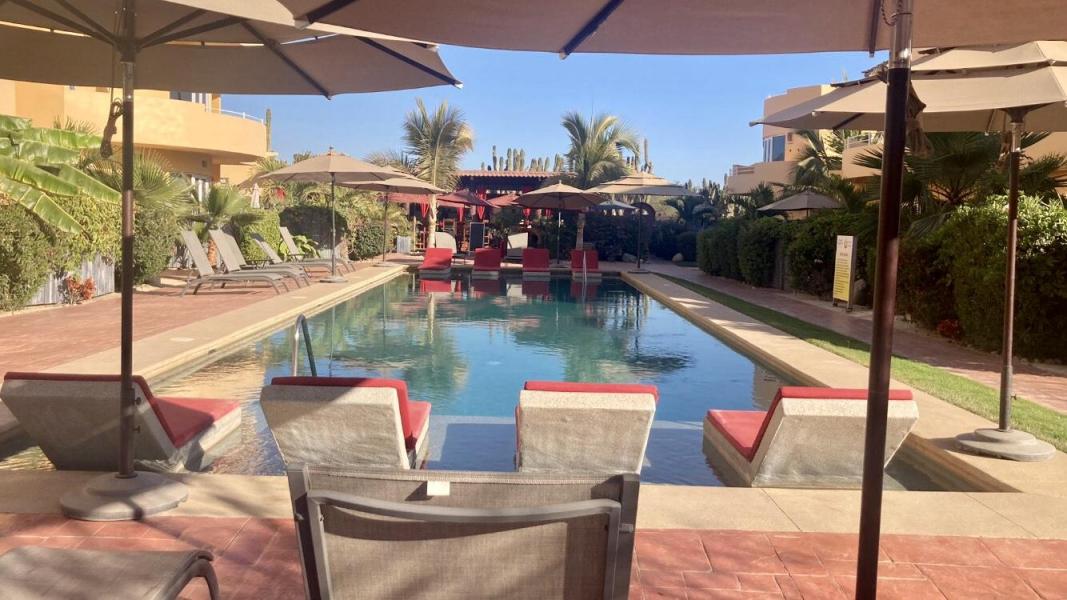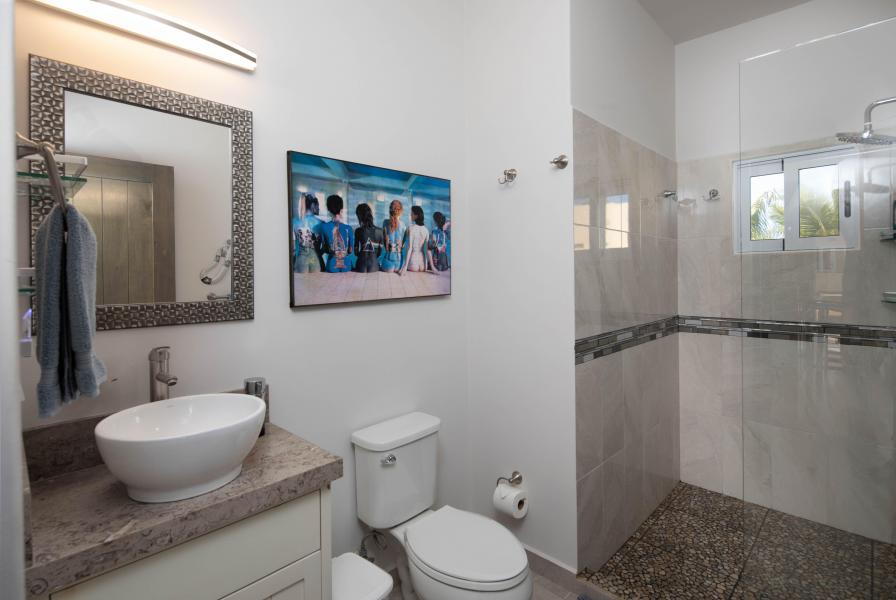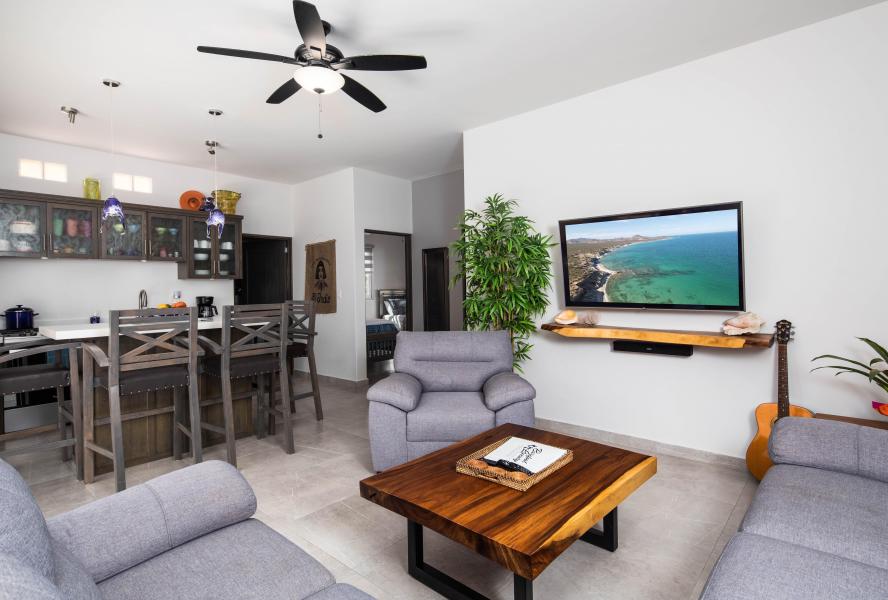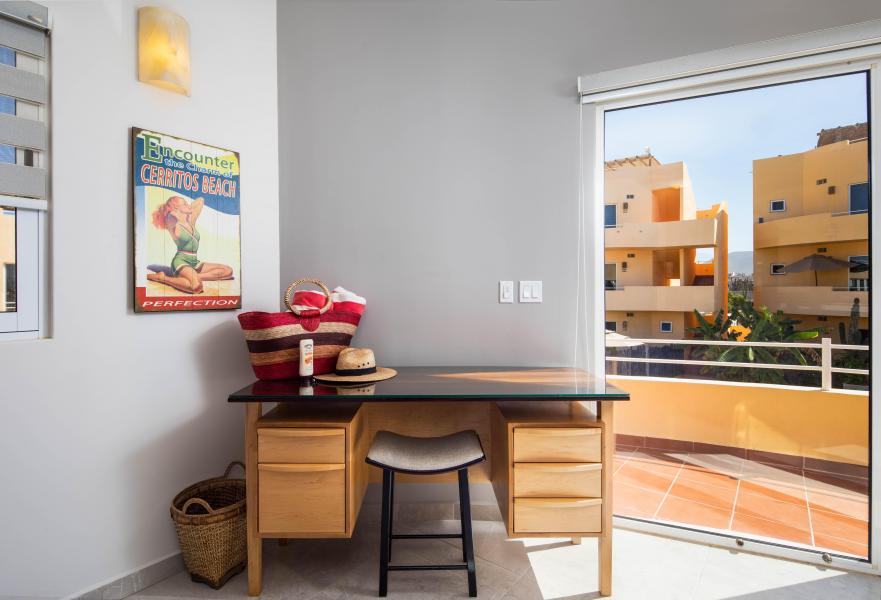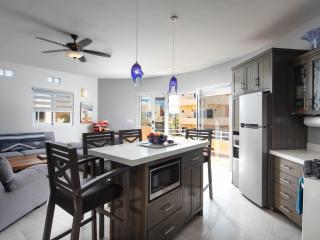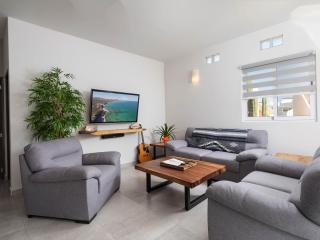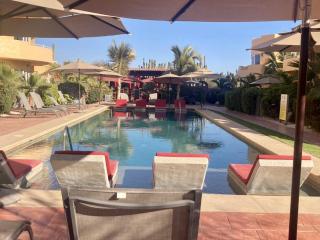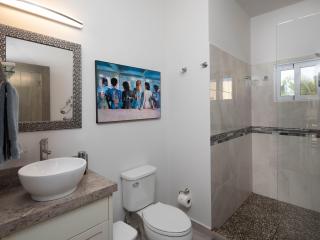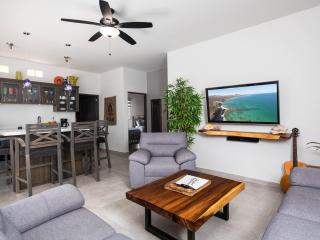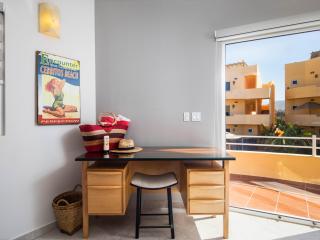 8B Cerritos Beach Luxury, Lrg Pool and Oceanview Deck
Cerritos Beach, El Pescadero , Mexico
Description
Cerritos Beach Tesoro del Mar is truly a "treasure of the sea." You'll love the private roof deck with mountain and ocean views, and the 2,600 sq. ft., 2 bedrooms / 1.5 baths will be plenty of indoor and outdoor living space for your family to spread out and enjoy the natural beauty of Baja. The Cerritos Sunrise gated community is only steps away from the safest swimming and surfing beach in the area, plus you'll enjoy the beautifully landscaped swimming pool right on the property.

Cerritos Beach Rental Tesoro del Mar is decorated in minimalist chic style, highlighting Baja's natural beauty. Our unit is oriented to avoid the hot afternoon sun, so your family will stay comfortable all day long.

Cerritos Beach Rental Tesoro del Mar comes with its own private roof deck with 360° mountain and ocean views. You'll love taking your morning coffee upstairs to watch the sun rise over the mountains and the waves crash on the shore. After a day at the beach, enjoy a margarita at the whale watching bar or watch the sun set into the sea from the two-person hammock. The full-sized BBQ makes it so you may never go inside!

You'll find a fully appointed kitchen at Cerritos Beach Rental Tesoro del Mar, with all the amenities you need to feel right at home, including a blender, microwave, 6-burner gas stove/oven, coffee pot and dishwasher. There's even a dispenser for hot or cold purified water on demand.

Bedrooms

You'll love the cozy beds in Cerritos Beach Rental Tesoro del Mar. The master bedroom has a king-sized bed and the second room has two full-sized beds for you to sprawl out on after a long day in the sun. Three windows and a silent ceiling fan in each room create cool breezes that invite you to snuggle under the down-alternative comforters. Both rooms have ample closet and drawer space for your group. You'll luxuriate in the upgraded bed linens and plush bath towels while the sounds of the sea lull you to sleep.

Most importantly, Cerritos Beach Rental Tesoro del Mar offers everything you need for a relaxed beach vacation, from sunscreen to can koozies to beach towels and everything in between. Relax on the comfy couch streaming movies on the flat panel Smart TV with our fast wifi, enjoy any of the games and books we've left for you, or use the Welcome Book to choose where to head out for a night on the town. With options walking distance in Cerritos, a 5-minute drive away in El Pescadero, or the funky artist community of Todos Santos just 15 minutes away you'll have plenty of options to choose from!

Fast Wif, Sun umbrell, Sunscreen, Beach towel, Beach bag, Can and bottle koozie, Insulated lunch bag, Insect repellen, Coffee and sugar, Blender/food processor, Pool float, Books & games, and Upgraded, luxurious linens and towels

Cerritos Beach Rental Tesoro del Mar is your own private haven within a small condominium community. You will have full access to all community amenities, including pools, parking, shaded lounge areas, foot showers and surfboard racks. You'll also have full concierge service from a professional property management team.

Property managers are onsite to cater to all your needs, including check-in and check-out. Within the condo you'll find a Welcome Book with wifi password, information on how to use the appliances, where to find the best beaches and local restaurants and activities.

Cerritos Beach is world renowned surf break and one of the only safe beaches to swim in the area.

Public transportation is a fair walk from resort. Car is recommend in the area.

Unlike private home rentals in the area which often have neighbors partying all night, our community respects Quiet Time from 10:00PM - 8:00AM to ensure the tranquility of your vacation.

There is a beach just outside our front door takes about 400 steps to get there. Great place to surf, swim or spend the day its called Cerritos Beach.
Amenities
+ more
- less
High DEF / Flat-Screen TV
Room details
2 bedrooms
1 full / 1 partial bath
+ more
- less
Bedrooms
Bathrooms
Full Bathroom (private) :
Sink
Toilet
Shower
Half Bathroom (private) :
Sink
Toilet
Rules and special rates
6 guests max
3 nights min stay
60 nights max stay
+ more
- less
check-in: 03:00 PM
check-out: 11:00 AM
Rates:
Base Rate:

$175

/nt
Christmas from 12/20 to 01/07:

$300

/nt
Thanksgiving from 11/22 to 11/28:

$300

/nt
christmas 2022 from 12/25 to 01/07:

$300

/nt
Thanksgiving 2022 from 11/20 to 11/26:

$300

/nt
Low from 05/01 to 09/30:

$150

/nt
Mid from 04/01 to 04/30:

$175

/nt
Mid Season from 10/01 to 10/31:

$175

/nt
High from 11/01 to 11/21:

$200

/nt
High 2 from 11/29 to 12/19:

$200

/nt
Low 2022 from 05/01 to 09/30:

$175

/nt
High 1 2022 from 01/08 to 04/30:

$200

/nt
High 2 2022 from 10/01 to 11/19:

$300

/nt
High 3 2022 from 11/27 to 12/24:

$300

/nt
Cancellation Policy
The guest can cancel up to 30 days before arrival and receive a full refund. There is a free cancellation window 24 hours after booking.
Interactive area view
click & drag to explore
Cerritos Beach, El Pescadero Map
drag to navigate